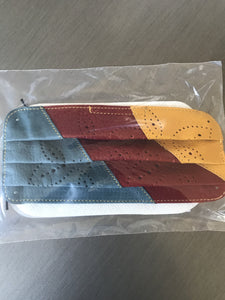 ---
SWA Collection Stripe Leather Face Mask
SWA Crew Face Mask
~~~See discount codes for 4-Pack,  
3-Pack & 2-Pack orders below! ~~~
                                VERY SOFT AND BREATHABLE!  REUSABLE!
This is NOT A MASK FOR MEDICAL USE BUT A PROTECTION * made with genuine vegetable tanned leather and therefore completely natural. Breathing is easy thanks to the respiration holes. The leather exterior provides excellent protection compared to the fabric of the classic masks; the interior can be continuously replaced with a simple tissue or sterile gauze and exterior is easy to disinfect. 
Ergonomically cut, comfortable fit with elastic that is adjustable according to the size of the face. Leather only gets better with age, so you can be sure this mask will serve you well into the future.
100% vegetable tanned leather

A

djustable elastic straps for comfort and may be fitted in different configurations according to your preference

One pack of tissues plus one pack of sterile gauze 

inner liners included with purchase.
Creating your own liners with tissue or sterile gauze at home in the future will be simple and inexpensive!
In

ner

 adjustable nose guard, chin guard

Height: 4.3" x Width: 7"
Pack of 4 pieces Best Value!
$80.00 4-Pack - 
$60.00 3-Pack - $48.00 0n SALE: Enter discount code 3 PACK at checkout
$40.00 2-Pack - $35.00 on SALE: Enter discount code 2PACK at checkout
  ✺ ✺ All mask sales are fina
l
✺ 
✺
Instructions to fit mask 3 ways:
 METHOD 1:
Thread elastic cords from front to back on each side.
Snugly bend nose bar centered over bridge of nose. Pull mask down to cup under chin.
Grab loose ends of cord on one side and fit comfortably behind ear while gently holding mask on bridge of nose. Mark cord with fingers and make loose knot then place back on ear.
Repeat process on other ear. Adjust knots accordingly to create perfect fit. Trim ends and singe tips to prevent fraying.
Insert sterile liner and wear!
METHOD 2:
Same as method 1 except thread cords from back to front.
Make knot on front side of mask, fit behind ear by threading cord through second hold and adjust. Make second knot.
Repeat on second ear. Insert liner and wear!
METHOD 3:
To wear around back of head, start same as method 1.
Make knot as shown on one side, wrap behind head, Create desired fit and make knot through hole on other side. Repeat. Insert liner and wear!
☆☆ Easily create new liners with paper towels, coffee filters or HEPA filters!
** Some products cannot be shipped to international destinations. Please submit a message to us at: info@TravelFormandFunction.com if you would like to discuss international ordering options.
** If you are interested in expedited shipping, please submit a message to us at: info@TravelFormandFunction.com for a shipping estimate.
---
We Also Recommend